As the year begins to wind down and we dive further into the chilly season, you might find yourself reflecting on all of this year's accomplishments. We hope the goal of buying your first starter home is still high on your 2023 priority list, and we want to help you achieve it! At Kerley Family Homes, we are known for our quality-built single-family homes, top-notch townhomes, and the big savings we give prospective homebuyers. With our Unlock Your Dream Home promotion, you can receive 5.75% (6.985%APR)† on a 30-year mortgage with our preferred lender on homes that can close in 60 days or less at Carter Grove. Now more than ever, buying a starter home in this community is a goal worth striving towards.
A starter home is often the first venture into buying real estate property, and it can be both a thrilling and daunting experience. To make an informed decision, it's crucial to know what to look for in a new home so you and your family can settle into a community that fits your needs and lifestyle. Make the best purchase for your family this holiday season with one of our move-in ready homes in Carter Grove.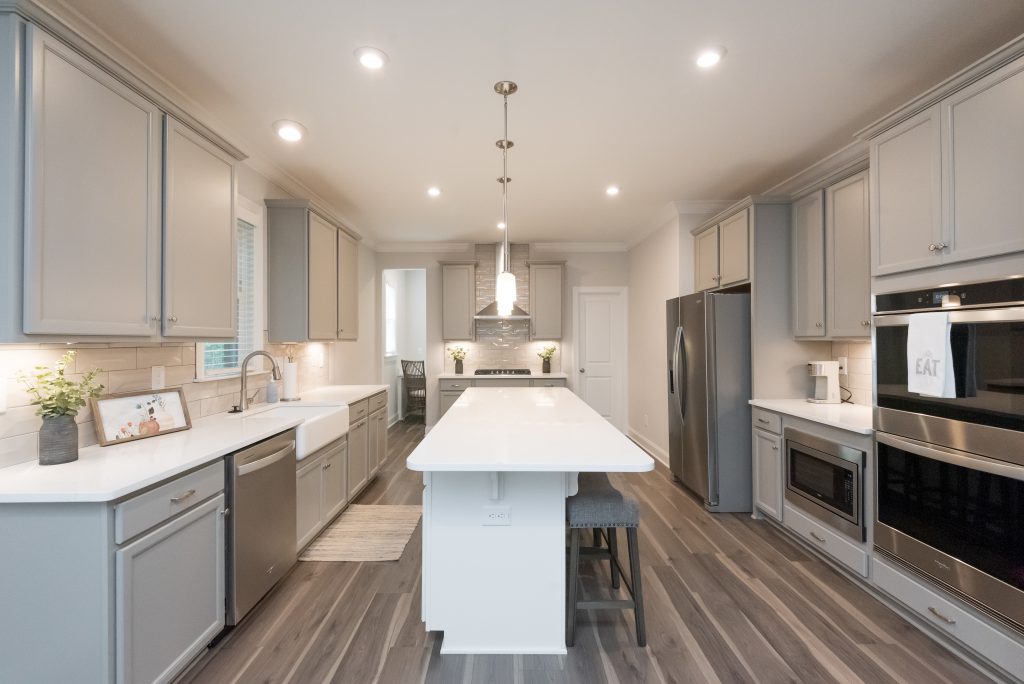 First, Calculate a Budget 
Before you start browsing listings in our Carter Grove community, determine your budget. In Carter Grove, there are four separate sections, including The Bluffs and The Reserve (from the $400s) that feature our 4-bedroom Georgian Series homes, and The Retreat and The Manor (from the $600s) that feature our larger 4-6 bedroom Executive Series homes. Calculate how much you can afford, taking into account your downpayment, monthly mortgage payments, property taxes, closing costs, homeowner's insurance, and potential maintenance costs. Being clear about your budget will help you narrow down options and avoid financial stress in the future. For more information about what you need to know to get prepared, check out our blogs, Popular First Time Homebuyer Questions and 10 Questions to Ask Your Homebuilder. 
Extra Tip 💡 
Research your financing options, including mortgage types, interest rates, and downpayment requirements. Consulting with a mortgage professional can help you find the best financing solution for your family. At KFH Mortgage, our goal is to help your home financing journey be as simple and worry-free as possible. Our dedicated team of professionals will help guide you through the home financing process.

Next, Decide Where You Want to Live
The old real estate adage "location, location, location" still holds true today. Where you live can dictate who you commune with in your neighborhood, where your children go to school, what place of worship you are a member of, and where you walk your dog, among other things. Consider the proximity to your workplace, schools, public transportation, and amenities like grocery stores, parks, and medical facilities as well. A convenient location can greatly impact your daily life and future resale value if you ever need to relocate to a new city.
We built Carter Grove in Cartersville, GA, because of its reputation as a great place to raise a family in a suburban area. Many people move to Cartersville because they desire a peaceful life in a welcoming "small-town" neighborhood surrounded by nature and people with similar values. Those who move to Carter Grove have the added benefit of amazing amenities like tennis courts, a swimming pool, a playground, and the Woodland Hills Golf Club. One of the other incredible benefits you won't find in any other neighborhood in the city is having a school right in your community. That's right – the new Cartersville Primary School, located at the front of Carter Grove, is an amenity you can't find anywhere else. Imagine your children walking or biking to school every day because it's only 3 minutes from their front door. This accessibility can't be beat!   
Extra Tip 💡  
Research the neighborhood thoroughly before you decide to move in. Look into crime rates, school districts, and the general atmosphere of the community. Visiting the neighborhood at different times of the day can give you a better understanding of what it's like to live there.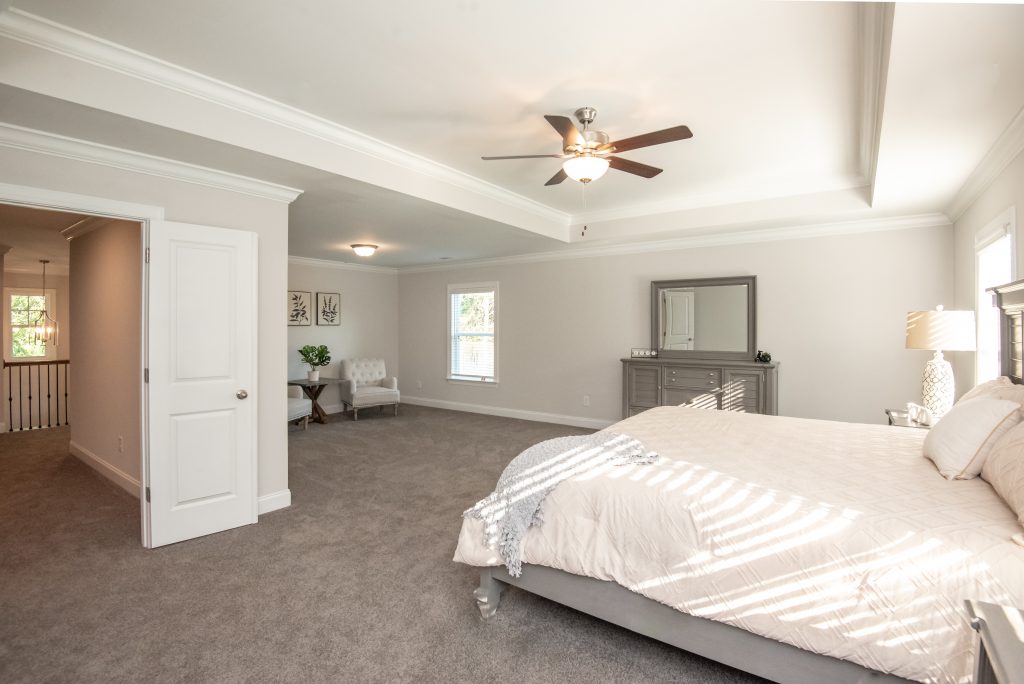 Then, Get Specific About What You Need in Your Home
Home Layout and Features
Think about your current needs in a home layout and what the future might look like. A starter home doesn't have to be large, but it should offer enough space for your lifestyle. Consider the number of bedrooms, bathrooms, and overall design. Is there room for potential expansion as your family grows? Reflect on your preferences. Do you want a yard for gardening or a play space for your children and pets? Is a garage or extra storage space important to you? Consider these features when evaluating potential starter homes. 
One of the perks of living in Carter Grove is that every home comes with a basement. To buy a three-story home starting in the $400s is the steal of the year! More features include 9-foot ceilings on the first floor, granite kitchen countertops, cultured marble countertops in the owner-suite bathroom, and 50-gallon water heaters. Don't wait to contact an agent to learn more about the features of the homes in this new community.  

Finally, Consider the Additional Expenses You May Accrue and Plan Accordingly
Condition and Maintenance
A well-maintained home will save you money and headaches in the long run. Consider the age of the property, the condition of its roof, HVAC systems, and appliances. A professional home inspection will help identify potential issues and negotiate necessary repairs. Because Carter Grove is a brand new community, homeowners do not have to worry about these issues that could be present in older homes. Read our blog, New Home or Resale: Which is the Better Investment? for more details on why choosing a trusted homebuilder like Kerley Family Homes is the right choice.
Homeownership Costs
Beyond the monthly mortgage payment, factor in property taxes, insurance, utilities, and homeowner's association (HOA) fees. Remember that owning a home and living in a community with other homeowners often entails unexpected expenses, so having a financial cushion is essential. Be prepared for certain homeowner responsibilities and understand what they entail before you buy. 
Extra Tip 💡  
The cost of homeownership also doesn't have to be strictly monetary. Consider how you may react if you're told you can't cut down a tree in front of your home or you aren't able to build a fence because of HOA regulations. It's important to find a community that fits your preferences in how you can renovate and redesign your future home. Our blog, What You Need to Know About Home Improvements and Upgrades Before You Get Started, guides you through the process of what you need to do before you upgrade your home.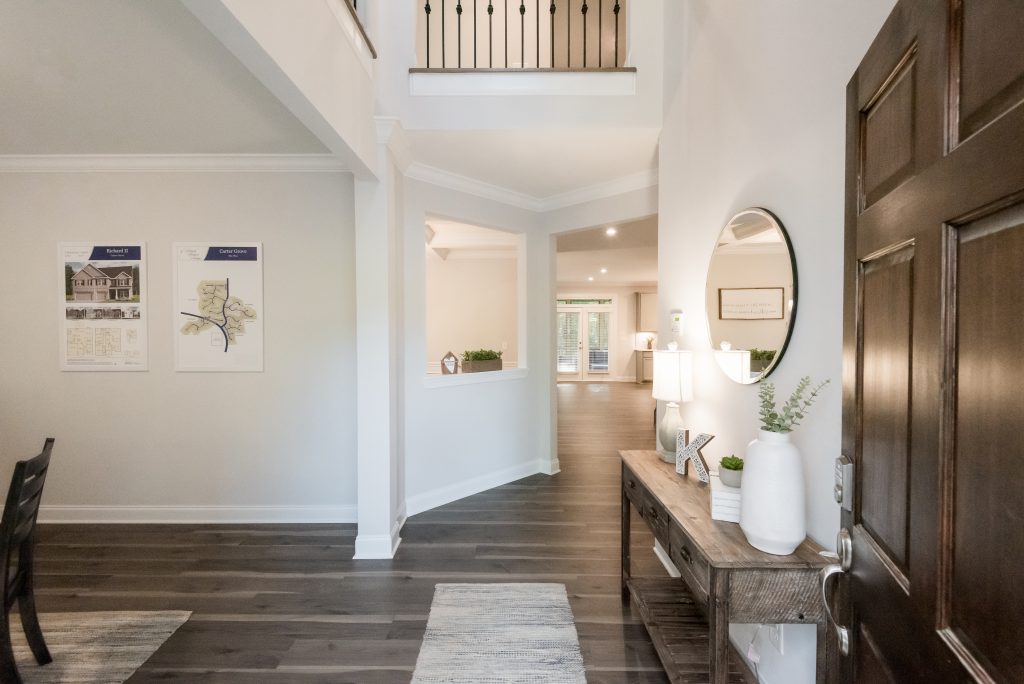 A Special Tip for Starter Homes
Resale Potential and Future Plans
Even if this is your starter home, think about its resale potential. Consider your long-term plans. Are you planning to live in your starter home for a few years and then upgrade, or do you hope to make it your forever home? Your plans will influence the type of home you should be looking for. Look at the local real estate market trends and consider factors like the neighborhood's desirability and any upcoming developments in the area.
Choosing a starter home is a significant decision, and careful consideration of these factors is essential to make a smart investment. Remember that your starter home is just the beginning of your real estate journey, and with time and effort, it can become a stepping stone to another home you may want to buy in the future. Take your time, do your research, and consult with our real estate professionals. Kerley Family Homes is here to ensure that your new home meets your needs, takes your financial goals into account, and exceeds your expectations. Contact an agent today to learn more about our move-in ready homes in Cartersville and our incredible promotions that can save you money!