Looking for our most recent news?
It looks like you've found some great information, but it might be a little outdated. For our most recent news on new home communities, financing options, and upcoming events visit our News page or browse our current new home communities.
We've built homes in Metro Atlanta since 2007 – that translates to more than a decade of helping families grow in communities all around the city. When we design a home, we consider everything we value – and how our customers share those values. Kerley Family Homes is a true family builder, and this is how we build fantastic homes with amazing value for you and your family.
Space for Friends and Family
For families of any size and description, everyone has a space in a home from us. Kerley Family Homes floor plans are designed with a variety of lifestyles in mind. We've created 3-4 bedroom townhome and villa communities that offer space for both residents and visitors so there's never a scramble for room. Our single family neighborhoods come in multiple different sizes – from homes ready for growing families to estate-sized plans fit for multiple generations.
Easy to Relax
Relaxation, whether alone or with family and friends, is as important as everything else you do at home. That's why we've worked to build comfort into every single Kerley Family Homes design. Owner suites in our homes are always equipped with features to relax with – like double vanities and tile surrounds to complement spacious tubs and showers. High-quality carpet, windows, and appliances make it obvious that life is easy in a home from us – but what you don't see is just as significant as what you do see. Pestban Pest Control Systems are built into the walls of every home – giving you an easy way to feel safe every day. And, our Clean Comfort whole home air filtration system ensures that you'll breathe easy with less dust and pollen to deal with.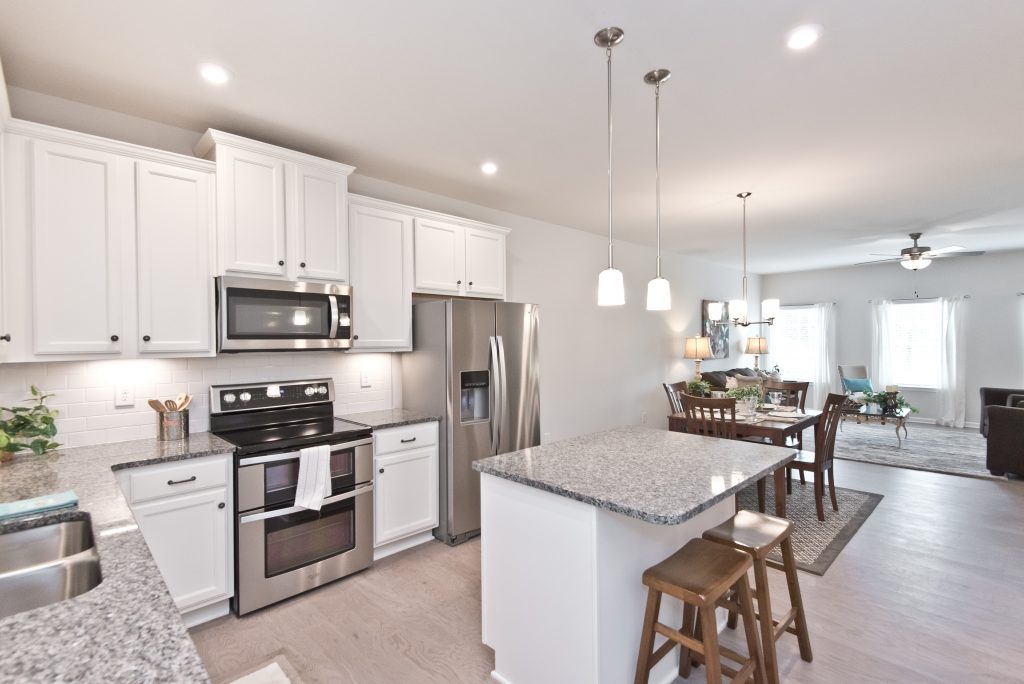 New Homes With Style and Value
Kerley Family Homes style is a hallmark of our designs – and we can share that value because we work to get the best deals on style features so you don't have to pay extra. Trim packages make every inch of your home more refined – without taking away from the value. Granite countertops, beautiful appliances, and perfectly-finished fixtures are all yours – completely standard and ready in all of our communities. It makes entertaining and hosting so enjoyable – and helps enrich your life even further.
Live a Life With Your Values
As a family-run business, we hold these values close enough to build them into every home – so that when you find your own home in one of our neighborhoods you'll know you made the right choice. Take a look at where we build and reach out to us today to talk about what you're looking for – and you, too, can build a true family home.