Summer is just around the corner, and it's time to dust off those patio chairs, fire up the grill, and embrace the great outdoors. With the warm sun and gentle breeze beckoning us outside, creating an inviting and stylish outdoor living space becomes a top priority. Whether you have a sprawling backyard or a cozy patio, transforming your outdoor area into a summer sanctuary is easier than you might think. From selecting the right furniture to adding pops of color and ambiance, Kerley Family Homes will guide you through the art of decorating your outdoor living space for the summer, ensuring that every day feels like a vacation. 
Decor Tips to Remember for Your Outdoor Oasis 
When it comes to decorating an outdoor living space, there are a few essential tips to keep in mind. These tips will help you create a functional and visually appealing area that you can enjoy all summer long. Here are some key points to remember:
Define the Purpose 
Before diving into the decor, think about how you intend to use the space. Will it be primarily for dining and entertaining, lounging and relaxation, yoga and weight lifting, or a combination of activities? Defining the purpose will help you make appropriate furniture and layout choices.
Choose Durable and Weather-Resistant Materials 
Outdoor furniture and accessories are exposed to environmental elements, so it's crucial to select materials that can withstand the weather. Opt for weather-resistant fabrics, fade-resistant cushions, and furniture made from materials like teak, aluminum, or synthetic wicker that can endure rain, sun, and heat.
Create Comfortable Seating
Comfort is key when it comes to outdoor seating. Invest in quality cushions and pillows to make your chairs and sofas cozy. Add outdoor rugs to define seating areas and provide an inviting feel underfoot. Consider alternative seating options like hammocks and egg chairs for a cool new look. 
Incorporate Shade and Protection 
While basking in the sun is relaxing, having shade options is essential for those scorching summer days. Consider adding a pergola, umbrella, or shade sail to provide relief from direct sunlight. If insects are an issue in your area, consider installing screens or using citronella candles to keep bugs at bay.

Add Pops of Color
Embrace the vibrant hues of summer by incorporating pops of color into your outdoor space. Use colorful cushions, throw pillows, rugs, and even potted plants to infuse life and personality into the area. Don't be afraid to mix and match patterns and colors for a cheerful and lively atmosphere.
Incorporate Lighting 
Lighting plays a crucial role in setting the ambiance for your outdoor living space. Utilize a combination of overhead lighting, string lights, lanterns, and pathway lights to create a warm and inviting atmosphere for evening dinners and parties. Solar-powered lights are also a great eco-friendly option!  
Personalize with Accessories 
Add a personal touch to your outdoor space by incorporating accessories that reflect your style and interests. Hang birdhouses and wind chimes, install a water feature, start a vegetable garden, or buy a cute dog house so your furry friend can sleep in the shade. These details will make the space feel like an extension of your indoor living area.
Consider Privacy 
If you want privacy in your outdoor lounge space, consider adding elements like tall plants, trellises, or bamboo screens to create a more secluded atmosphere. This will help you relax and enjoy your outdoor oasis without feeling exposed.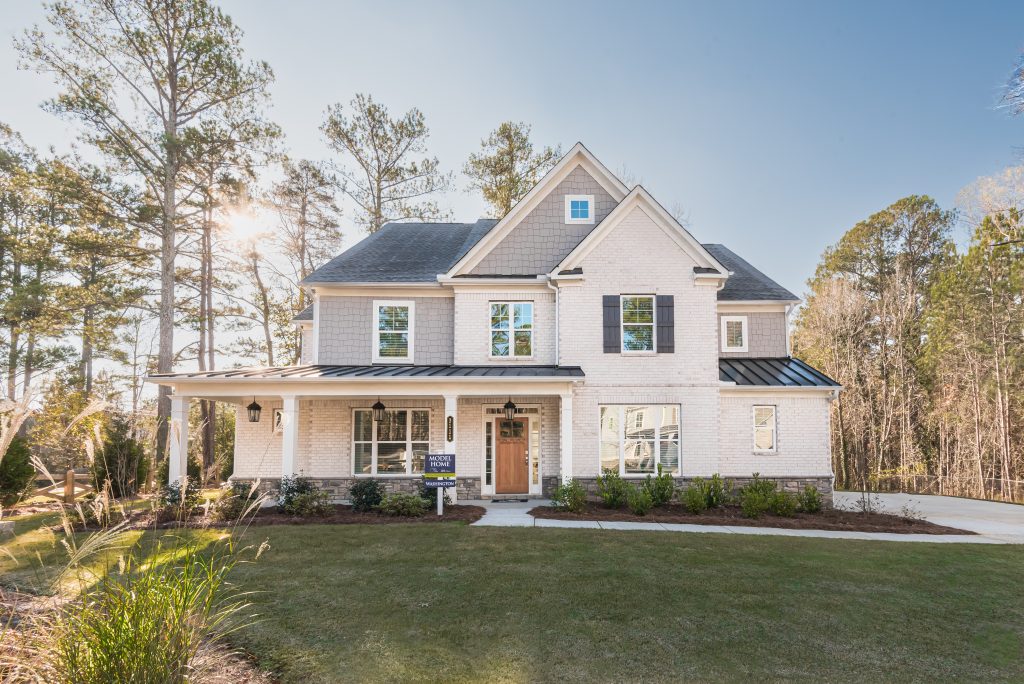 Remember, the goal is to create an outdoor living space that is comfortable, functional, and a reflection of your personal style. By considering these tips, you'll be well on your way to designing a beautiful space where you can savor the summer. 
While you're perfecting your own space, be sure to check out our beautifully designed outdoor spaces and amenities at select communities! These include large pools, gazebos, tennis courts, and spacious clubhouses perfect for relaxing or hosting guests. We also have a great Pinterest page full of popular outdoor decor ideas we think you'll love. 
Kerley Family Homes is here to educate our buyers about making smart choices with their homes before and after the big move. Contact an agent today to learn more about how you can save with our current promotions and for more information on available listings around metro Atlanta.