Looking for our most recent news?
It looks like you've found some great information, but it might be a little outdated. For our most recent news on new home communities, financing options, and upcoming events visit our News page or browse our current new home communities.
At Kerley Family Homes, we respect your schedule and your needs – that's why we've made it easier than ever to Request a Tour online. Tour your way, on your time. With our online tour request tool, it's simple. Here's how to find the ideal home from Kerley Family Homes on your time.
Why Schedule a Tour?
Scheduling a tour is the best way to see a home from Kerley Family Homes. When you schedule your tour online, you'll have the chance to ask questions before your visit. You'll also be able to pick a time that works best for you, including outside of normal business hours. Skip the crowds, and don't rearrange your schedule – book a tour of a home from Kerley Family Homes online.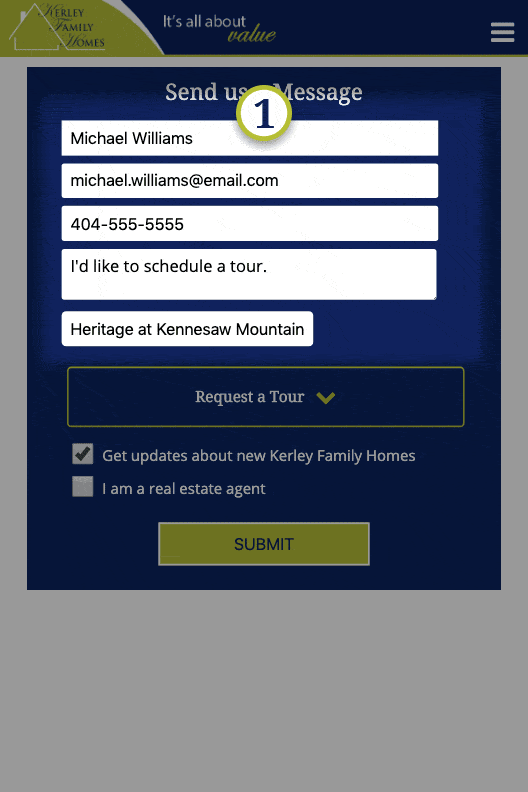 How Do I Request a Tour?
It just takes a few clicks. Look for the "Request a Tour" button when browsing communities and Kerley Family Homes listings, or visit our Contact page and choose the community you would like to visit. Pick a date and time for your tour, and if you have any requests or questions enter them in the box labeled "Message". Click "Send Message" and an agent will reach out to confirm your appointment and answer your questions. It's as simple as that!

What Else Should I Know?
The best way to have a look at your preferred Kerley Family Homes community is by scheduling a tour. With our online tour request tool, it's convenient and easy. Fill out the contact form on your desired community to get started. Once you've sent your request, you can sit back and we'll take care of the rest. Any concerns you have about your tour will be answered, and you can visit your new home in comfort. 
Ready to get started? Find the perfect Kerley Family Homes community now, or browse our current move-in ready homes.