Looking for our most recent news?
It looks like you've found some great information, but it might be a little outdated. For our most recent news on new home communities, financing options, and upcoming events visit our News page or browse our current new home communities.
Regardless of the shape, size, or style of your master bedroom, you deserve a place to call your own in your new home. Maximize the comfort of your master suite by creating a bedroom sitting area. Somewhere that you can spend at least a few moments peacefully sipping your morning coffee while reading the newspaper. A place to unwind while reading a good book after the kids have gone to bed. Or an area where you feel like you can actually get things accomplished. For some inspiration, here's a look inside the master suites in 4 of our beautifully decorated model homes.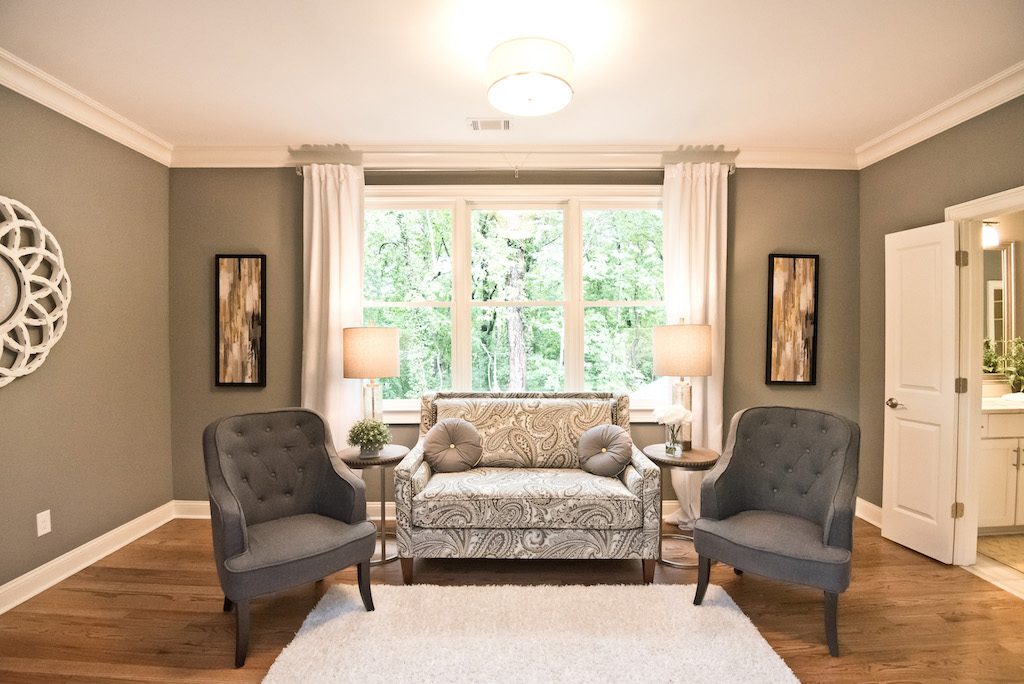 Designated Sitting Area
Having a designated sitting area in your new home is the easiest way to create this area of tranquility. Like in the home above in Heritage at Kennesaw Mountain, you have the space you need for ample seating. Want a secluded place to watch the game away from the kids? A separate sitting area provides you with the flexibility to add a television, coffee table, and even your favorite recliner. Some of our floor plans with designated sitting areas include the Benjamin, Payton, Richard, and Wesley.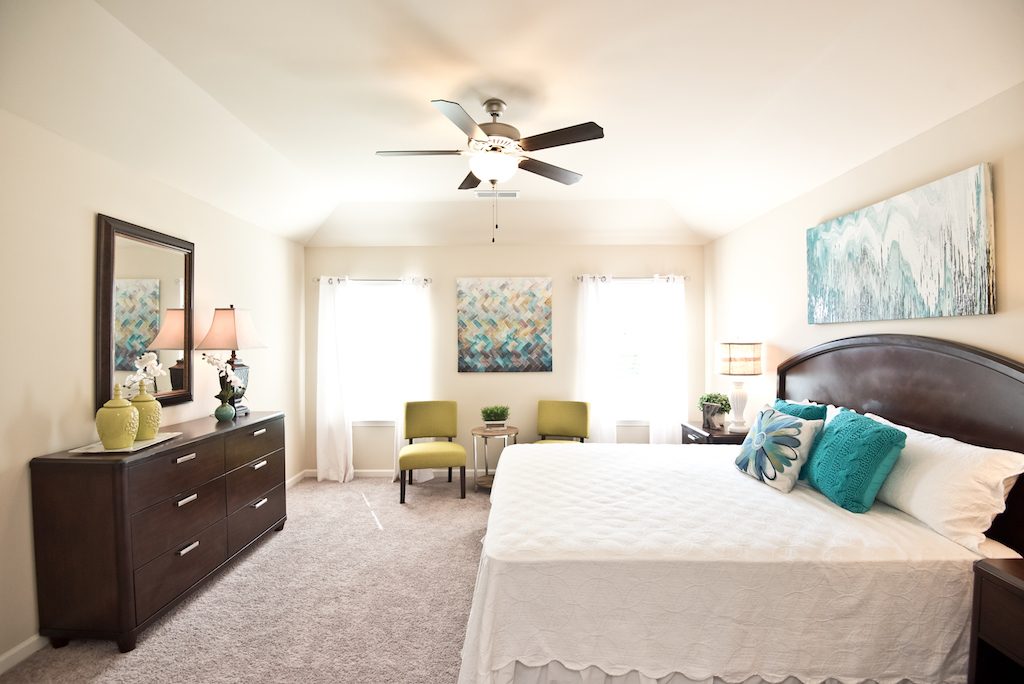 Cozy Space for Morning Coffee
Perhaps there's not a separate sitting area in your new home — no worries! There are several ways to arrange the furniture in your master suite to create one of your own. One approach is to design a cozy space where you can enjoy your morning coffee. For example, take a look at the master bedroom above from our model home in Maple Village. Here, we combined a couple of comfortable chairs with a small side table between them. This adds to the aesthetic of your master bedroom. And, it also gives you a comfortable place to enjoy your favorite cup of coffee or tea before starting your day.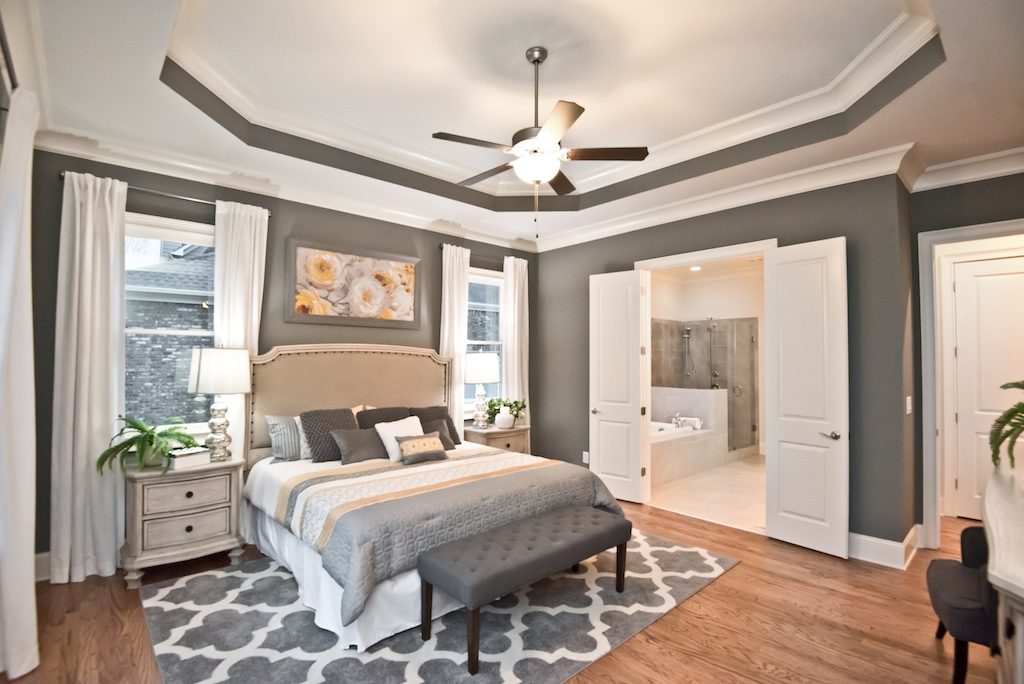 At the Foot of Your Bed
Another means to incorporate a sitting area in your master bedroom is to utilize the space at the foot of your bed. This is demonstrated above inside or model home in Heritage at Kennesaw Mountain. Depending on the amount of room at the foot of your bed, you can either use a single bench or a couple of chairs and small ottoman. To get more functional use out of this space, look for a storage bench. Not only will you have the benefit of a relaxing sitting area, but you'll also have some added storage space!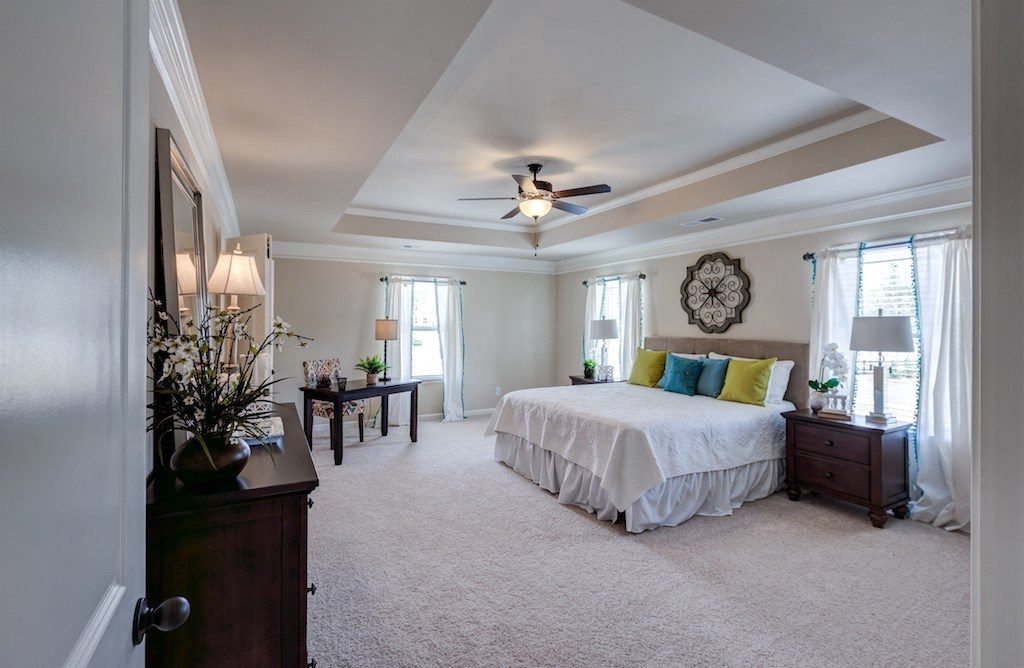 Area for Inspiration
Our last recommendation is for those looking for a serene place where you can be productive. Use your extra space to create an area for inspiration (link updated 08/24/23), whether it's for paying your bills or working on your latest sketch or novel. Like in our model home in The Fairways at Durham Lakes featured above, all you need is a desk, comfortable chair, and lamp. We also recommend placing your desk by a window to utilize the natural lighting during the daytime.
Create Your Own Bedroom Sitting Area
If you're looking for a new home in metro Atlanta, our agents are ready to help you choose the floor plan that's right for you. Whether you're searching for a home with a designated sitting area or enough space to design your own, you're sure to find the house to call your own in a Kerley Family Homes community.