Why Rent When You Can Own? Belmont Park- Newan/Coweta
July 14, 2015 • Belmont Park, Coweta County Homes
Looking for our most recent news?
It looks like you've found some great information, but it might be a little outdated. For our most recent news on new home communities, financing options, and upcoming events visit our News page or browse our current new home communities.
Rents are still on the rise according to RentJungle.com who tracks Atlanta rental rates. Atlanta rents have increased 26% for a two bedroom apartment since 2009.  Right now, an average rent is $1286.00 a month.  You have to wonder?  Why rent when you can own?  There are numerous advantages to owning your own home versus renting an apartment or house.
 According to a recent article in Realtor.com, Where is Buying is Better than Renting, the numbers were crunched and Atlanta came in at the top of the list! "Horace Greeley would probably be a little puzzled if he saw our data on buying and renting across America. That's because if you're looking to trade in your rental digs for a slice of that American Dream, we're now telling you a new refrain: "Go east, young person!"
Yes, that's right. Our data scientists crunched a lot of numbers to come up with the places where you can get the most bang for your buying buck, and where there's a healthy supply of affordable housing. What they came up with is an eclectic mix of East, South, and Midwest markets—the Atlanta area topped the list of places where buying is almost certainly better than renting, according to our chief economist, Jonathan Smoke.  [read article.
So why rent?  You have to live somewhere so why not build up your asset portfolio and improve your future instead of making money for your landlord? According to a recent article on Zillow,  when you pay rent, you are paying your landlord's mortgage or adding equity to his or her bank account. However, when you have a home mortgage, you increase your degree of ownership in your home with every payment. 
Can't come up with a downpayment?  Check out the Georgia Dream Program where you can qualify for up to $7500.00 in downpayment assistance plus Kerley Family Homes will pay 100% of your closing costs when you use their preferred lender.
Why Belmont Park?
Value Plus …..Homes start in the low $100's and for that low, low price you get gorgeous detailing, built-ins, quality craftsmanship and timeless style.  Come home to beautiful Judges paneling, gorgeous kitchen cabinets, hardwood flooring, built-in bookshelves, fireplaces, Masters with sitting rooms and much more! Yes, you can have a beautiful home at Belmont Park! (all options are per plan)
Great Location – Belmont Park is in a great location that is minutes from Historic Newnan.  Historic Newnan is fascinating with shops in buildings dating back to as early as 1868. The buildings that reside on the court square now date from 1868 to 1960, but most were built between 1895 and 1900. Throughout the surrounding suburban development, the City of Newnan's town square has remained vital and relatively intact for over a century. If you are looking for unique restaurants and shopping experiences, they have it!
Certified Professional Homebuilder – At Kerley Family Homes "Its All About Value" but it is also about honesty and integrity.  With Kerley you get assurance that your home is built right.  Kerley Homes are backed by  a program of the Greater Atlanta Home Builders Association, the Certified Professional Home Builder designation and they are Family Owned & Operated plus they have earned an A+ rating with the Better Business Bureau.   KFH knows this is a big investment for your client so they also offer a 2/10 Home Warranty.
Available Homes include: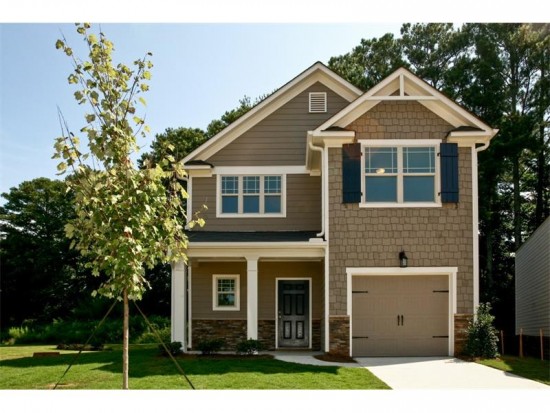 The Baltic – 3 Bedrooms/2.5 Baths  –  this home  plan offers an energy efficient home with 9′ ceilings, huge Kitchen/Breakfast room opens to Family room, impressive staircase leads to 2nd level featuring Master suite with sitting room. Large back yard makes this home a must see! 26 Belmont Park $138,995 [picture representative of finished home]

Directions:  I-85 South to Exit 47. Right off the exit. At the 3rd light, turn right to Hwy 34 Bypass. Travel 3 miles and turn left on Hospital Road. Go 2 miles and turn left on Heery Road. Turn left on Belmont Drive.

Check back often for more information, visit our website or call us at  770-254-5411.