As the crisp autumn breeze forces us to unpack our sweaters and the leaves take on their familiar warm-toned hues, it can only mean one thing – Thanksgiving is just around the corner! It's that special time of year when we gather with loved ones, share a delicious meal, and express gratitude for the blessings in our lives. And what better way to embrace the season's spirit than by adding festive Thanksgiving decor to our home?
Whether you're a seasoned host or a first-time decorator, Kerley Family Homes has cooked up some awesome Thanksgiving decor ideas to turn your new house into a home for friends and family to enjoy this holiday. We've got you covered, from charming centerpieces that steal the show to DIY crafts that keep the kids entertained.

The Main Dish is the Thanksgiving Table
Your Thanksgiving recipes may be set to prepare, but what about your dinner table? There are many ways to dress a holiday tablescape to accommodate your design and space needs. A table runner is a good place to begin. It sets the tone for the color scheme and solidifies the theme of the decor. An excellent option is a traditional black and white checkered pattern, tan burlap, or an embroidered runner with turkeys and other holiday patterns.
In addition to the table runner, incorporate a red or yellow fall leaf garland down the center to fill the space between decor items and food dishes. Add candles of different sizes for a pop of color and a warm glow to the table. For a seamless look, use matching tapered candle holders and stylish thin candles to make it look more luxurious.

A Cornucopia of Decor Options!
A traditional cornucopia overflowing with multi-colored corn, squash, fruits, and other edible (or faux) items is a fun alternative to a flower bouquet centerpiece. The word "cornucopia" is derived from two Latin words: cornu, meaning "horn," and copia, meaning "plenty." This horn of plenty became a symbol of Thanksgiving because it signifies a bountiful harvest, wealth, and abundance.
They are typically filled with crops, but there is no rule on what to put in your cornucopia. You can choose unique plants like succulents, add different types of baked bread and grains, or fill with nuts. Place the filled horn in the center of your Thanksgiving table for a lush-looking centerpiece, add it to a kitchen counter or island for a splash of festive decor, or display it on an entry table or other surface anywhere in your home.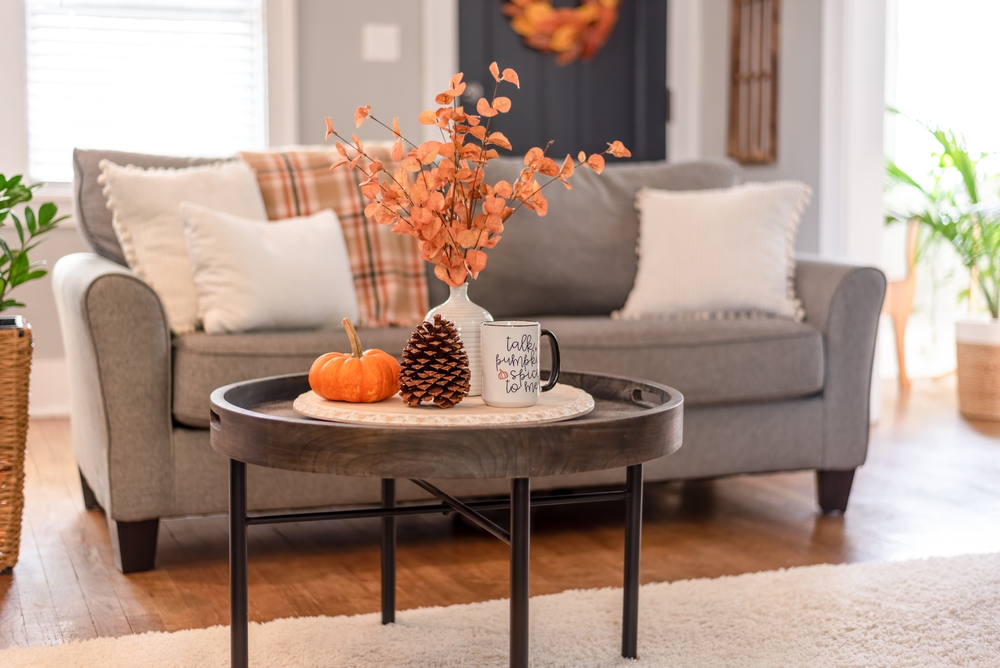 The Living Room Needs Some Flair, too!
The Thanksgiving table is a typical "centerpiece" of holiday decor, but don't forget to give the living room some extra flair. For a plant-friendly vibe, add a colorful leaf or flower bouquet in a vase and scattered pumpkins, pinecones, and acorns to create an earthy feel. Scatter holiday-themed blankets, fluffy pillows, and warm rugs for another quick addition to make the space feel more welcoming and in tune with the holiday season. Your guests will love the attention to detail, and you'll be able to feel the spirit of Thanksgiving throughout your home on your dining table.

Let the Food Do All the Talking
Stylized cornucopias and pumpkins of different sizes and textures can spice up your dining decor, but there's nothing like your beloved family recipes taking center stage. Choose durable glass serving dishes and matching utensils to ensure your table is cohesive, and aim to prepare food of different colors to showcase the rainbow effect of nature's bounty. A bowl of cranberries and mint, a plate of asparagus with roasted tomatoes and lemon, and a cup of thick brown gravy poured over a giant roasted turkey may be all the decor you need to wow your guests this year.
Happy Thanksgiving, From Kerley Family Homes!
With these fantastic last-minute Thanksgiving home decor tips, your new house is the ideal holiday home to host your family. For a limited time, we are offering incredible incentives on new single-family homes and townhomes across metro Atlanta! Contact an agent to learn more about receiving up to $20K* in interest rate buydowns, closing costs, and design upgrades! You can be in your dream home for the holidays when you purchase from Kerley Family Homes!
*Promotion for LIMITED TIME ONLY based on available inventory. Promotion and rates are subject to change. See agent for details. All information is believed to be accurate but is not warranted and is subject to errors, omissions, changes, or withdrawal without notice. ©2023 Kerley Family Homes and KFH Realty. Equal Housing Opportunity