Looking for our most recent news?
It looks like you've found some great information, but it might be a little outdated. For our most recent news on new home communities, financing options, and upcoming events visit our News page or browse our current new home communities.
Your dining room is a versatile space and often a hub of activity. In a home from Kerley Family Homes, it's also designed to be convenient and beautiful. Among our floor plans, you will find several different dining room styles. Some are designed as separate rooms, while others are part of the kitchen and living area. A few floor plans even include room for both – so you have ultimate flexibility. Before starting your new home search, have a look at some of the dining room setups you'll find in Kerley Family Homes. Then, contact us to schedule a tour to fit your schedule where you can see them for yourself.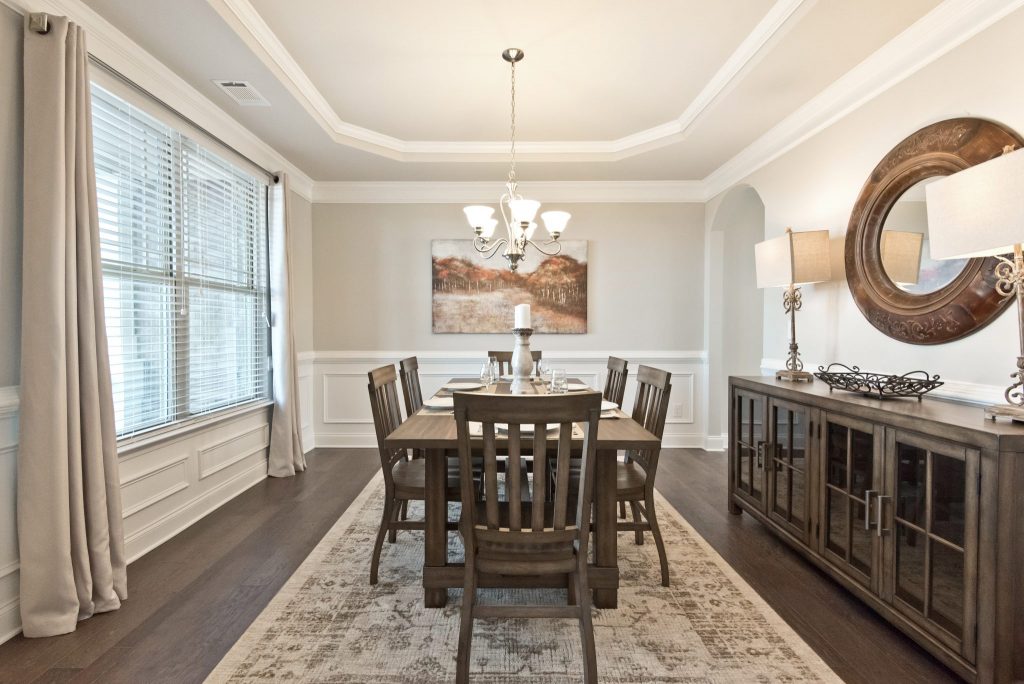 Formal Dining Room
Elegant and classic, a formal dining room is separate from the kitchen. Ours often look out into your welcoming entryway, such as this one in Overlook at Hamilton Mill. Dining rooms in this style set a tone, whether it's for dinner parties, family gatherings, or romantic meals. They keep the kitchen out of sight for guests and keep guests out of your prep space. They can feature attractive accents as well, like trey ceilings and stunning light fixtures.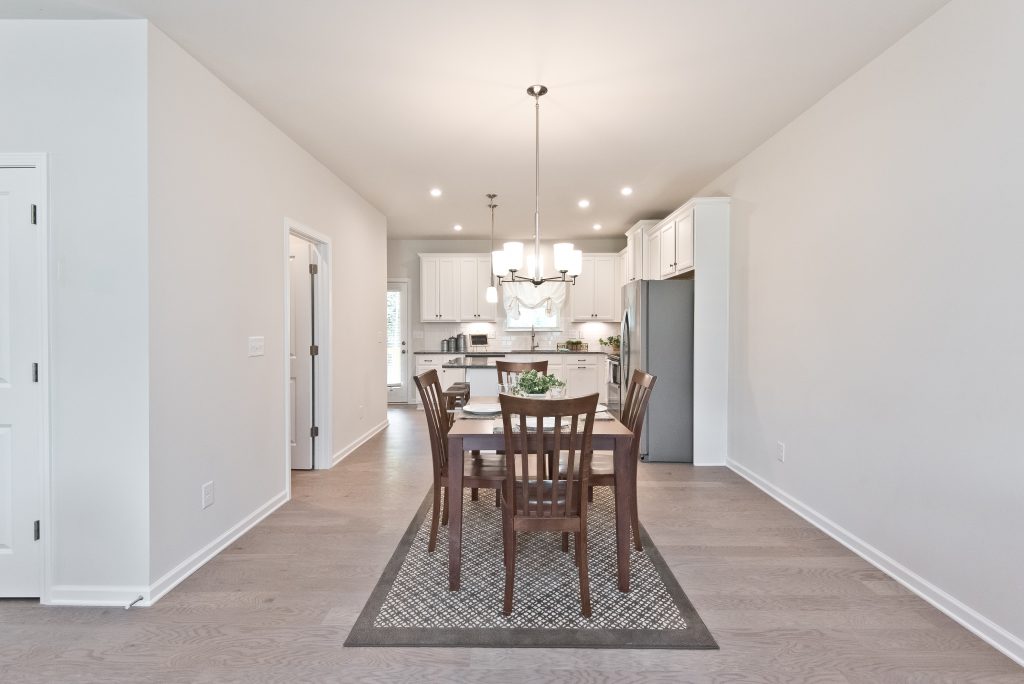 Open Concept Dining/Kitchen
Right off the kitchen, an open concept dining room makes it easy to go from counter to table like this one in Cantrell Crossing. Anyone preparing food can easily interact with guests and family members in the dining room. Once everything is ready, it's a breeze to serve it all up – and countertops can even work as serving areas. In many homes from Kerley Family Homes, large islands sit in the center of the kitchen, providing even more convenient space to serve or dine.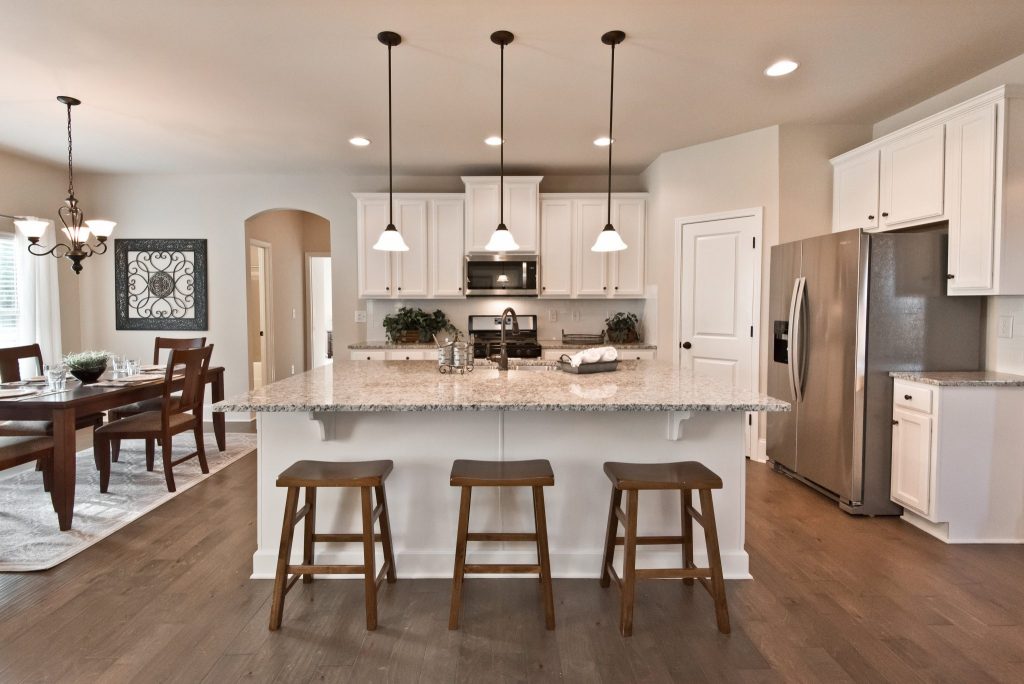 Neighboring
Similar to an open concept kitchen/dining space, you will find convenience yet exclusivity with a neighboring dining room layout. Instead of leading you into your living space, a neighboring dining space presents the opportunity to gather and eat without distraction. While still offering serving ease, this dining room style makes for easy clean up and intimate family time around the table. You can find this dining space at our Ozora Lake community in Gwinnett County.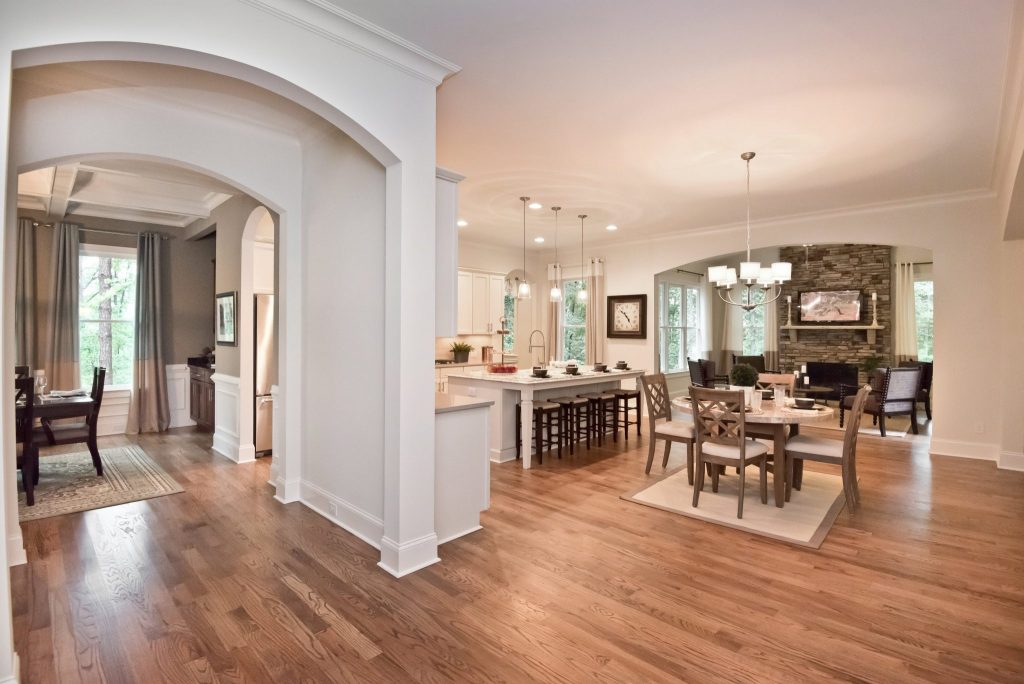 Combo Floor Plan
A number of floor plans feature both a small dining area to the side of the kitchen and a large formal dining area. This convenient dining area in Heritage at Kennesaw Mountain complements the larger dining room near the foyer. This gives you the benefits of both, and plenty of flexibility to host as many guests as you want. Spend game day with a clear view of the living room from the kitchen and table space for all of your snacks. Or enjoy an intimate dinner with friends in your separate dining room.
Find the Ideal Dining Room
In a Kerley Family Homes neighborhood, you're sure to find floor plans with a dining room styles that fit your life. We design our dining rooms with convenience and elegance in mind. Follow us on Facebook to see more inspired dining rooms, then contact us and schedule a tour. In a home from Kerley Family Homes, you'll find style and value that fits your life.