Brookmont in Douglas County has 4 Ranches Ready to Close NOW – The Single Level Living Advantage
November 12, 2014 • Brookmont, Douglas County Homes
Looking for our most recent news?
It looks like you've found some great information, but it might be a little outdated. For our most recent news on new home communities, financing options, and upcoming events visit our News page or browse our current new home communities.
Kerley Family Homes announce today that they have 4 ranch homes ready to close now at the very popular Brookmont.  Why should you consider a single level home?  One level house plans have recently come into style in a big way. Today's discerning homeowners prefer one floor house plans for many different reasons; let's take a look at a few:
Energy efficiency. One floor house plans may require less energy for heating and cooling. While multi-level homes often have less exterior surface area and are thought to be more efficient from a heat-loss perspective, single level homes can often be more compact and easily incorporate efficient plumbing runs and heating systems.  Having all of your living space on a single level also means room temperatures are more even, because heat is not rising to the upstairs. Not only does this help the family save money, but it makes the home more environmentally friendly.
Easier maintenance. The exterior of a single level home is much more accessible for maintenance. Tall walls associated with multi-level homes often become a barrier to the DIY homeowner, whereas having a single level home means you'll be much more able to reach all the areas of your home to perform simple maintenance and repair tasks.
Accessibility. Retired or elderly homeowners often favor one floor house plans because that means there are no stairs to traverse as they become older and less mobile – but today's younger homeowners also realize the benefits of a single story design. One level house plans designed using "aging in place" or universal design principles allow homeowners of all ages to reap the benefits of their home design for many years, without any thought of having to move.
Easier renovations. The simplified and accessible nature of one floor house plans means they are also easier – and in many cases less expensive – to expand or remodel than multi-story homes.
Not only does Brookmont offer single level living but the location of this popular community is ideal.  Located minutes from I-20 for easy access, Arbor Place Mall with many fine shops and dining options, Brookmont makes your life convenient.  Great parks are located nearby such as Mt. Carmel Recreation Park, George H. Sparks Reservoir(Sweetwater Creek) and many more parks and recreation facilities in the area.
One of the main reasons this community is so wildly popular is the quality and integrity of homes built by Kerley Family Homes and incredible amenities such as a waterfall entrance, sidewalks, a beautiful community clubhouse that includes an exercise facility, meeting room, lounging areas and kitchen. You'll also find 8 tennis courts, a large neighborhood pool, basketball court, soccer fields, park areas, nature trails & more!
Fantastic Home Plans: Kerley Family Homes are building some fabulous home plans many with arched doorways, granite countertops, sodded yards, crown molding and coffered ceilings plus much much more! (all options per plan)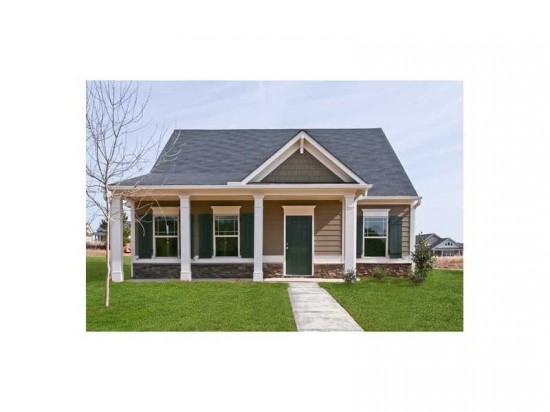 Click here to see all available homes
At  Kerley Family Homes "Its All About Value" but it is also about honesty and integrity.  Kerley Family Homes is a Certified Professional Home Builder which means that you are protected in ways that you are not protected with a builder who is just licensed.  Not only is Kerley Family Homes a CPHB but they are Family Owned & Operated.  It is important when purchasing a home to hire a reputable builder.   KFH knows that this is one of the biggest investments you will ever make so they offer a 2/10 Home Warranty to protect you for years to come.
Residents with children may attend Mount Carmel Elementary School (2007 School Of Excellence), Chestnut Log Middle School or Chapel Hill High School.  Click here for more info
Directions:  From Atlanta, take I-20 West. Take Exit 36 / Chapel Hill Road. Left onto Chapel Hill Road South for 2.5 miles. Then, take a left onto Brookmont Parkway for 0.3 miles.  Get Point to Point Directions Here
Brookmont the Meadows  from the $140's
Brookmont the Cottages  from the $130's
Hurry in to reserve your home now or for more information:  Visit Our Website or contact on-site sales consultant at 770-609-1596.
All information is believed to be accurate but is not warranted.  Subject to Errors and Omissions.  See On-Site Agent for full details.